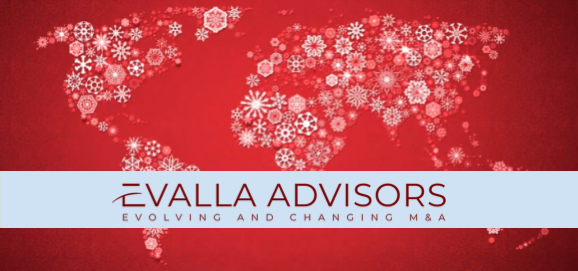 We hope that 2022 has been a successful and productive year for all of you, and that any challenges become opportunities going forward in 2023.
For the Evalla Advisors team, 2022 was full of tremendous activity and we are delighted to end the year with a significant cross-border acquisition where we sold a digital agency to Mod Op, a Miami-based full-service digital marketing agency, that will be announced in early 2023. In addition, on-going activity moving into Q1 and Q2 2023 positions Evalla with the prospects of multiple closes, a strong deal flow and forward-looking opportunities in the marketplace.
As Evalla continues to expand, we opened the doors of our new office in El Segundo (Los Angeles, CA) over the summer. We will continue to accelerate our growth trajectory with a clear focus on marketing services, digital media, and ecommerce sectors, utilizing the collaborative space to support our next phase of growth. Drop by and say hello when you're in town! Also, if you're ever in Amsterdam, NL, or Shanghai, CH, drop us a line there too!
We are also pleased to announce the expansion of our client services team with the addition of a talented Associate with highly relevant experience, Nick Curran. A graduate of the University of South Carolina, Nick previously spent three years at a boutique investment bank based in New York City, where he was involved in several successful M&A transactions in the digital marketing and advertising sectors. For the four years prior, Nick worked for medium and larger advertising agencies in New York, Sydney and London.
At Evalla, we continue to embark on our mission to change the reputation of M&A Advisory and Investment Banking. As evidenced by the aforementioned updates, we strive to build upon our foundation of supporting Clients to realize their best potential value. Our core belief in conscious capitalism and the benefits of stimulating growth in society through looking at business and the human journey together is reflective of Evalla's growth in 2022, and continued growth in 2023, as we continue to position ourselves as a key player in the M&A space.
While economic and geopolitical uncertainties created headwinds in 2022, they also generated opportunities. A reset in valuations, the availability of capital and the increased competitiveness from corporates provided openings for dealmakers throughout the year. In 2022, M&A market activity continued to exceed historical norms while retreating from the new heights of the previous year. As we come to the year's end, 2022 will be remembered as one of the strongest years outside of 2021 for M&A activity. We look forward to 2023 with insight and enthusiasm for value realization in the marketplace.
In this year of many changes, challenges, and exciting new projects, we are thankful for all the achievements of our global team, and proud to support the entrepreneurs and investors that sit at the very heart of our industry. We are always happy to hear from you and look forward to connecting in the new year.
Wishing you all a wonderful holiday season and a prosperous New Year!
The Evalla Team
Lori, Tong, Max & Nick